The Japanese representative lacquerware "Wajima Lacquer" which a professional craftsman group makes
Recognized as full-fledged only upon becoming able to fabricate own tools.
Wajima Lacquer, one of Japan's representative lacquerwares. The unique way of producing Wajima Lacquer is that products are made under division of labor system involving wide variety of professionals. The person we met first was Yoshinobu Tsuji, a bowl wood substrate crafter. In his workshop located inside nagaya-style workshop (nagaya: a traditional Japanese tenement house) in Wajima, number of wood blocks and roughly-shaped wood substrates are put on from one end to the other. The central place, where a "rokuro" is placed to rotate wood substrate, is his home position.
Many chisels, the tools to make wood substrate, are placed at the side. These chisels were made by him in fact. "Wood Substrate Crafter is considered full-fledged only upon becoming able to fabricate own tools. By having steel material heated, hammered, the blade edges are formed. Different blade angle makes different finish and influences efficiency of work. The angle of blade incorporates know-how each craftsman has developed", explains Mr. Tsuji. He is the 3rd generation Wood Substrate Crafter succeeded from his father and grandfather. He became apprentice to his father after graduating his local high school. His career as a craftsman has been 37 years. At the beginning he started to prepare materials and to clean up sawdust for his superiors by getting up at 6 o'clock in every morning.
"The basic for craftsmen to develop the skills is to take ideas of how their superiors do. Taking an opportunity of cleaning up the workplace, we used to sneak a look at and learn how chisel blades of superiors are and listen to the sounds of gouging." His son is also working as a Wood Substrate Crafter he says. "Once you produce something tangible, then it will remain as it is for generations and people will keep using it. We feel our responsibility and fun on this point. Once you obtain a set of techniques firmly, you become able to further challenge something new. I would like to encourage young people more to come up".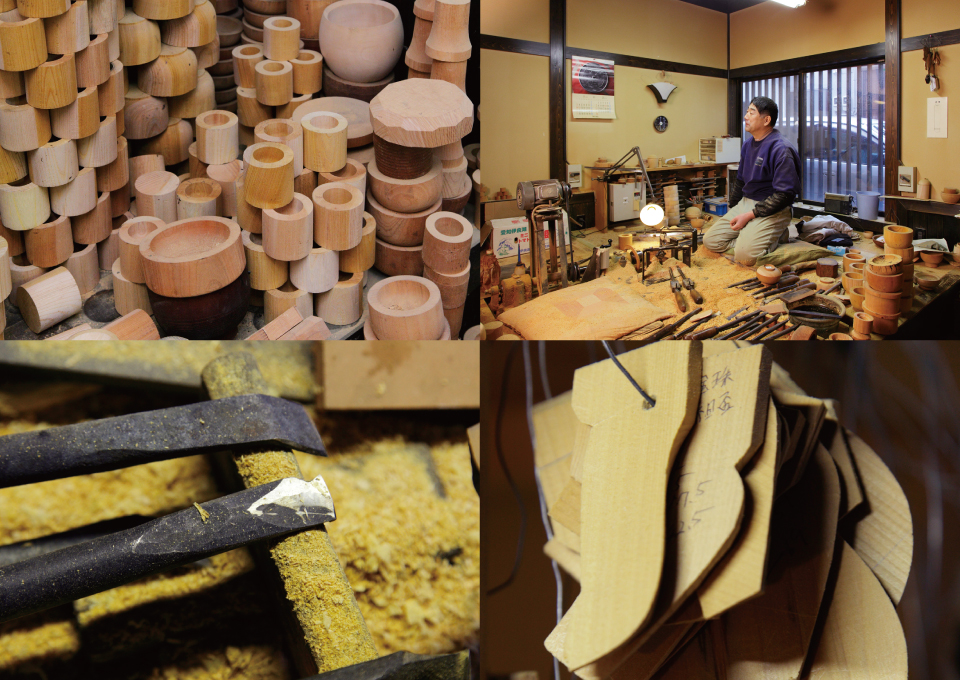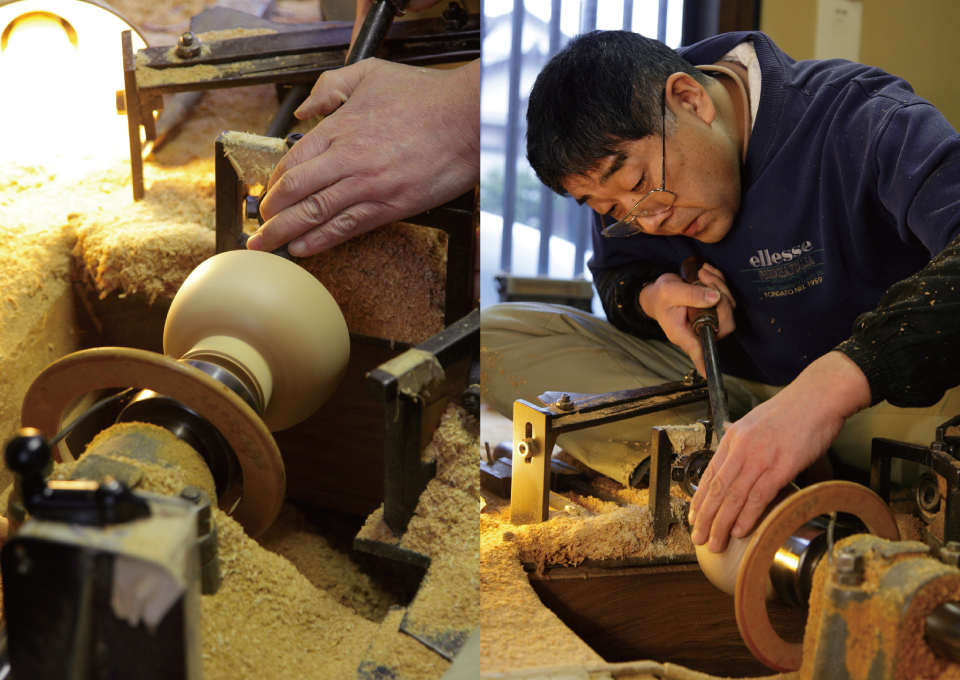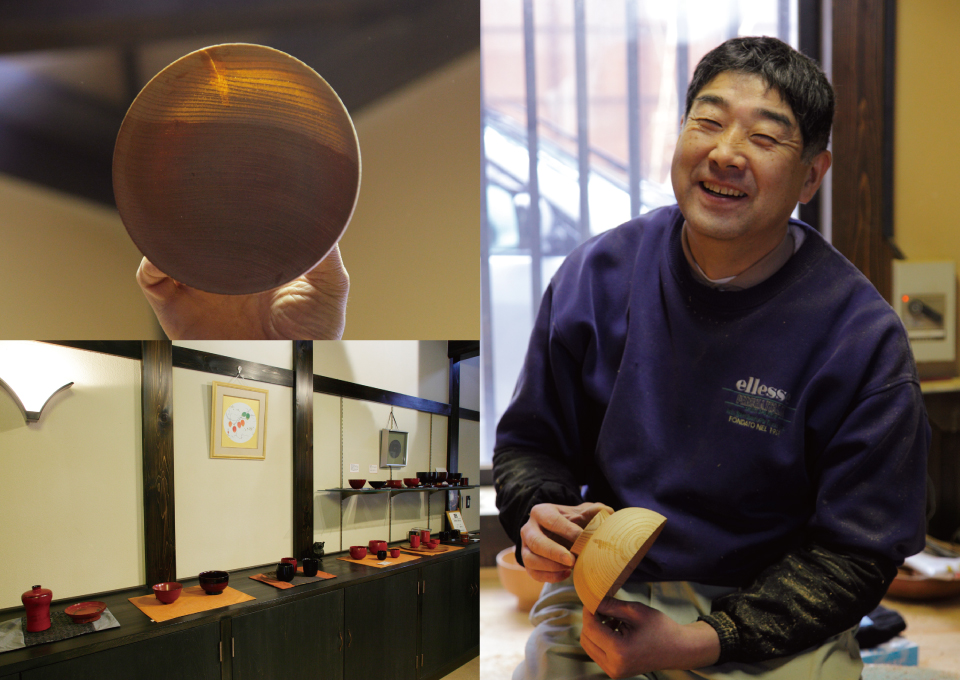 Passion of craftsmen aspiring to the next, even today
Having wood substrate completed, they move onto the "coating" process. We had an interview with Shioyasu Lacquerware Workshop where we could take a tour from first to finish coatings. 10 craftsmen work there. Shigeaki Nakayama who works on first coating says, "The job of coating is to have it coated, dried, polished, and again coated, dried, polished, in a repetitive manner patiently. For Wajima Lacquer we perform Nunokise (Placing a piece of fabric for reinforcement purpose) then paste mixture of raw Urushi, rice glue, and Jinoko. While going through the first, second and third layers, fineness of Jinoko powder we use becomes different and we must subtly optimize the mixture at every work because of temperature and humidity variations that affect the curing time. Urushi is truly a living matter. It really requires your experiences", says Mr. Nakayama. He also says that taking ideas of how their superiors do on their coating job is a key for everyone to develop its skills, and he used to keep his eyes on the angles of his superior's paddle and how it was sharpened. Despite his experiences as long as 40 years, Mr. Nakayama still says "I have never been satisfied with my coating work. I always do with a motto 'The next one must be the best'". At this interview we thought we met a craftsman's spirit of lifetime ambitions.
After first coating is done, it goes to middle coating. Performing middle coat done entirely, dried, and polished to make the surface smooth. Repeat middle coating again. The next process is Fukiage (wiping). To make the surface further smooth, lapping is performed with blue grind stone or charcoal, wipe with cotton cloth to remove off hand marks and dusts. Having all of these completed, the process goes onto finish coating that is the final stage of the whole coating process.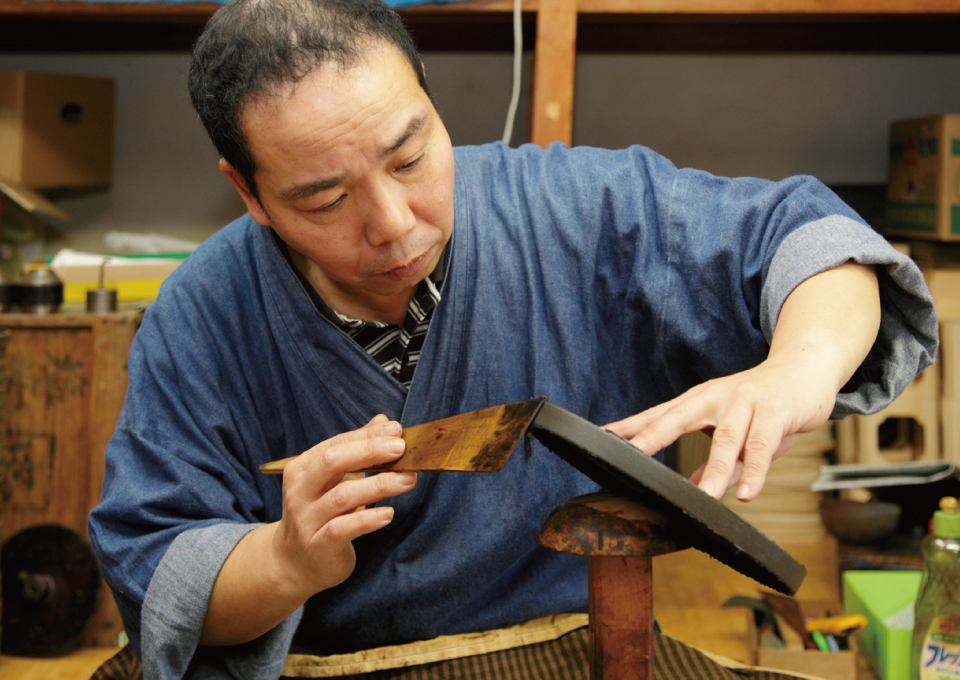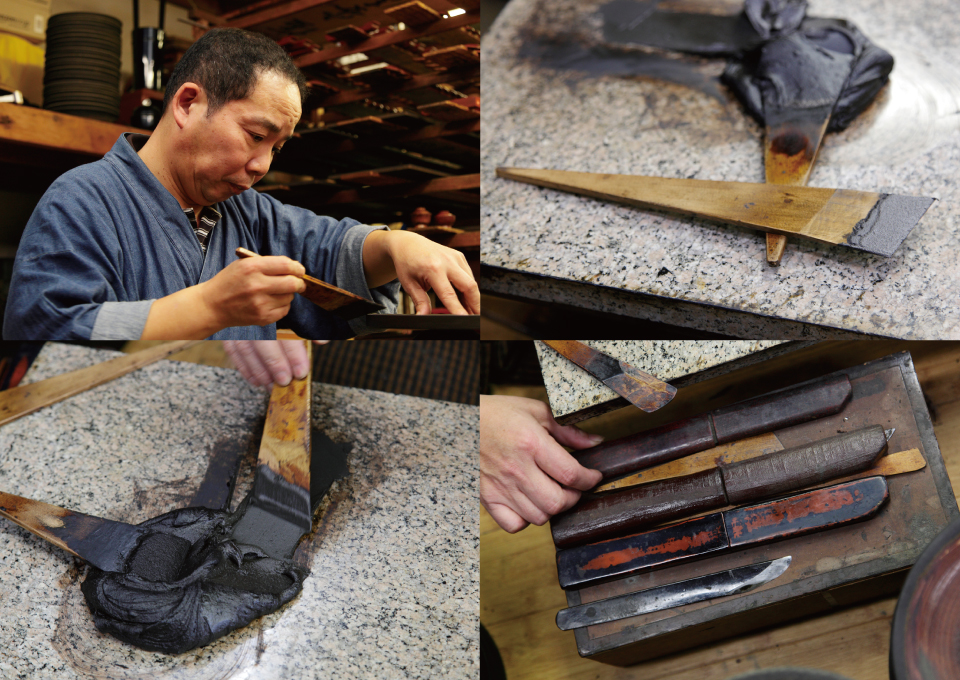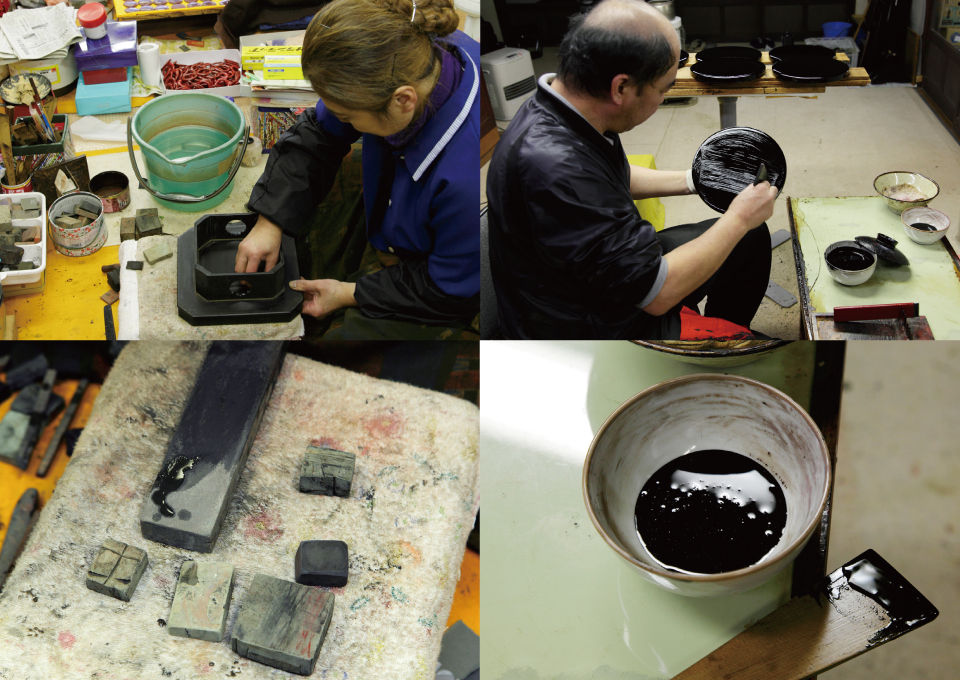 No dust allowed even a bit. Finish coating is one-shot deal.
Finish coating is the final stage of whole coating process. Some Wajima Lacquerwares are finished with Roiro, Makie, or Chinkin decorative works, and some are completed only with this finish coating called "Nuritate finish". The second one is really one-shot deal. No dust and brush trails are allowed. Thus the finish coating workshop is strictly managed under dust free environment. The temperature and humidity, that affect Urushi condition, are also under control. So, as you may notice, the photos here in this page was taken through the window of the room, not from inside.
The craftsman working on finish coating is Akira Kosaka. His career is of bumps and detours. He originally entered Shioyasu Lacquerware Workshop and became apprentice on first coating for 4 years, got out to a fully different job by circumstance, and he once again became interested in working on Wajima Lacquer then started learning finish coating at another workshop, and finally came back to Shioyasu Lacquerware Workshop as a craftsman.
Mr. Kosaka has experienced different jobs out of Wajima Lacquer. "This work is really delicate and tires my eyes. Temperature stays at around 25 degrees C, humidity of 80% around in the workshop. The work is tuff. However I feel I am extremely happy when I take miso soup at home with bowls that I performed coating". He had opportunities to learn other craftsmen's work in his experiences of working at different workshops. "Techniques and skills are quite different from person to person, so I am confident to identify who did the coating once I look at the completed products". Only one Wajima Lacquer's Nu-shi world involves a variety of individualities. 次回は呂色、蒔絵、沈金の加飾部門の職人さんにお話をうかがいます。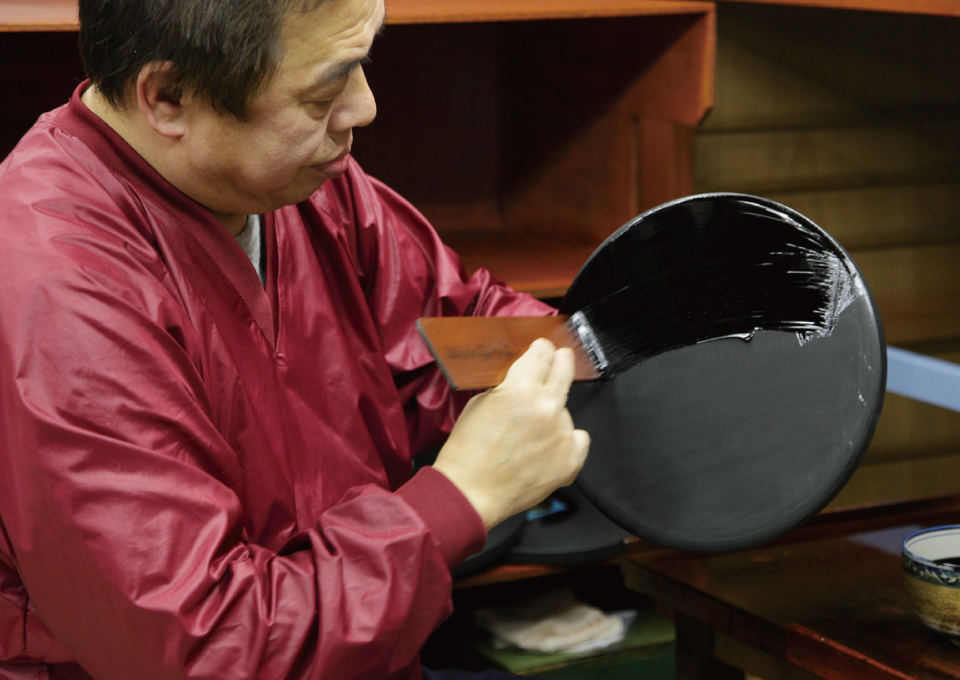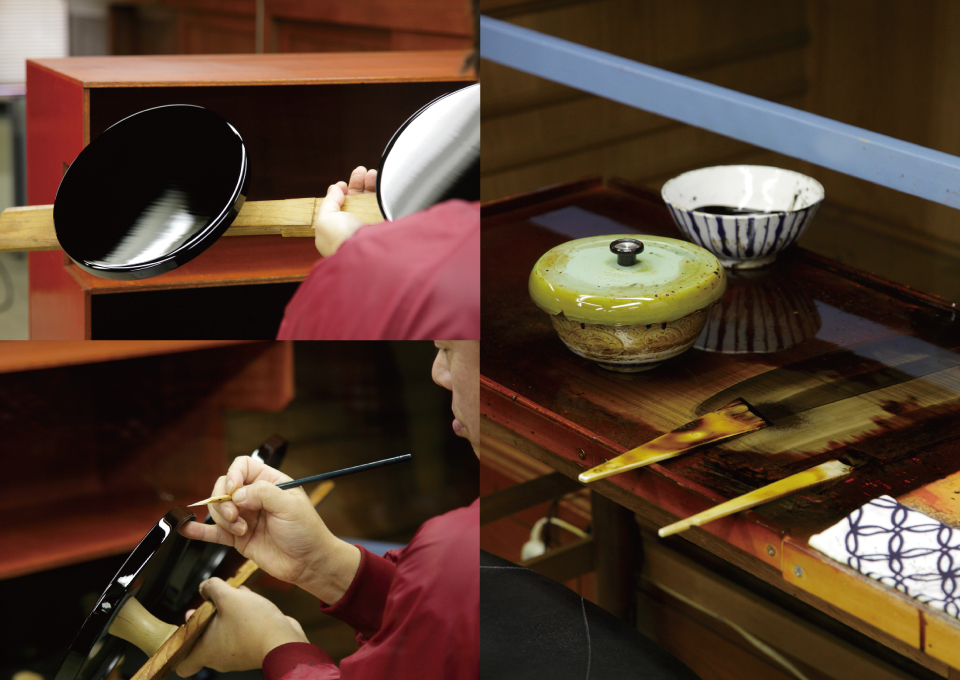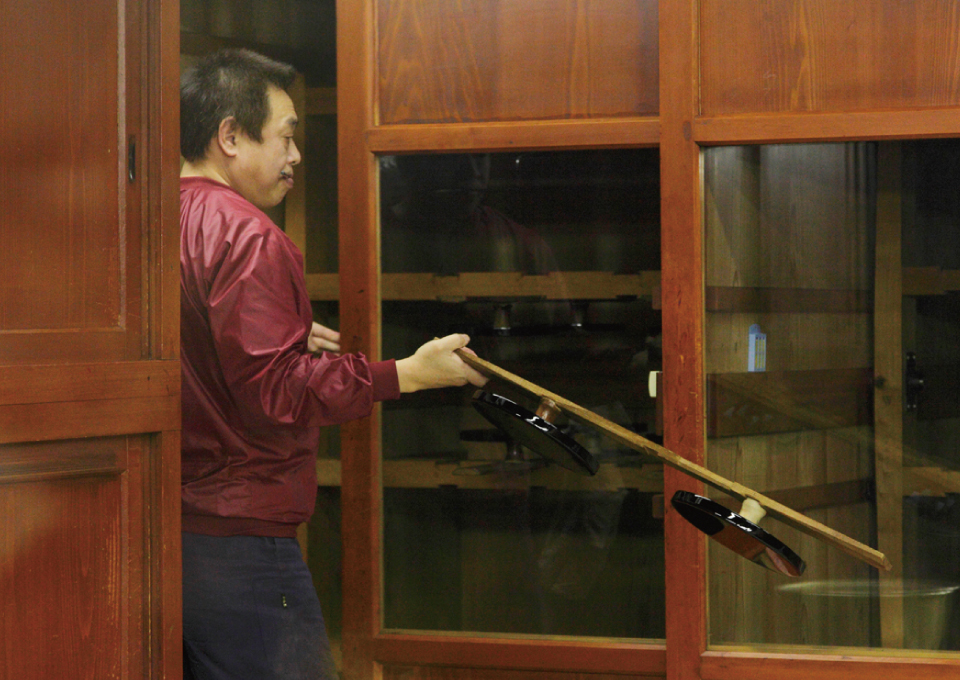 Wajima Lacquer Kiji-shi (Wood Substrate Crafter)
Wajima Lacquer Middle coating